New mode: Try to beat the WikiBot!
---
Hi there! Meet WikiBot!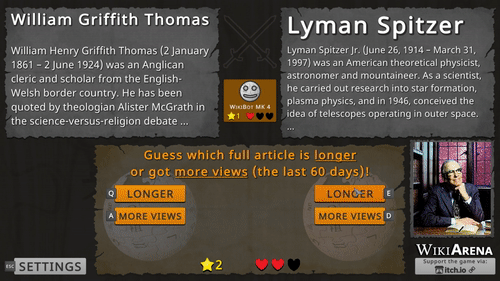 New "VS WikiBot" Game Mode
Today's update added a new "VS WikiBot" game mode! In this mode you will play in a "last one standing" format against a bot that gets progressively better at playing the game, the more you beat it.
Can you make it up to WikiBot MK 20 and win?
Spanish & Japanese fully translated, Chinese Wiki supported!
In other news, thanks to the fabulous Andy Cyca (@andycyca) there is now a full Spanish translation in the game. On top of that, another player (who wishes to remain anonymous) helped with the Japanese translation. Implementing the latter, I had to figure out some character display stuff for Asian languages, so I added support for Chinese Wiki content on top. Let me know if there are any issues!
Change to "article length"
Previously the game extracted the text from a Wikipedia page via its API and counted all characters of that string. As it turns out however, the API ignores most tables and some other texts in special formats. This could lead to some cases where articles were considered shorter than they actually are (for example lists of TV show episodes, where each entry had an entire plot synopsis inside the table). I changed it so that the game now looks at the "length in bytes" of the article's full source text, which - while it doesn't translate to characters or words 1:1 - definitely is a more accurate representation of what you'd think of in terms of actual "content length".
Streams still going strong!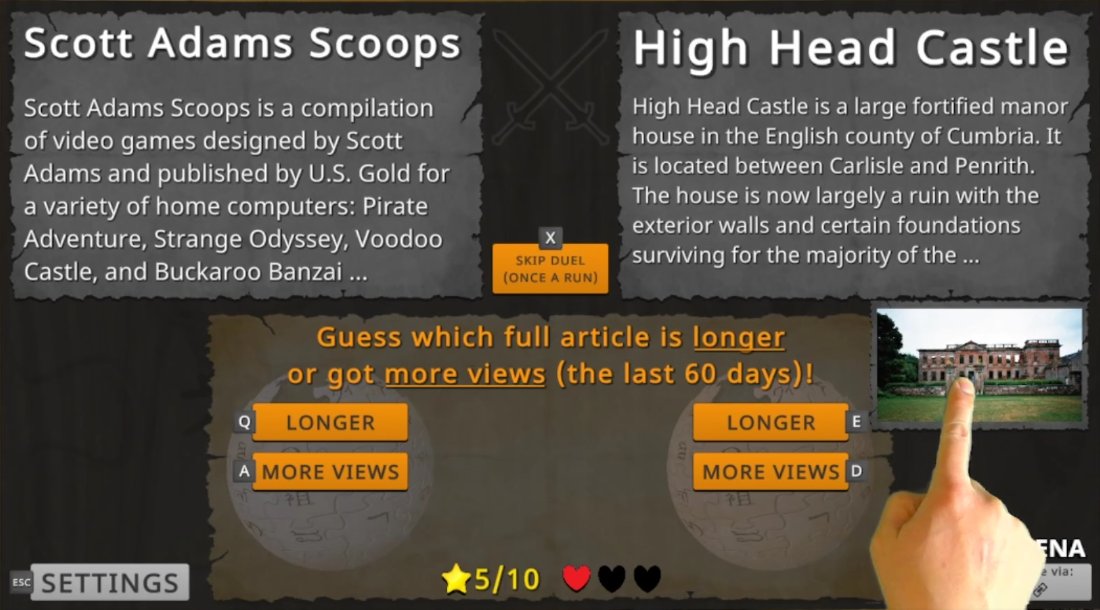 Fortunately the game continues to prove that audience interaction is one of its strong suits! Streamers such as hammerbrotha_ (with a unique layout that allows him to point and gesture directly on screen) or TotallyNotAnElk (going for those endless highscores) have played multiple sessions already. I'm also very excited that Siormax recently hosted a first Italian stream! Keep an eye on the game's Twitch category!
That's it for today, stay safe and have fun!
Files
WikiArena_WebGL.zip
Play in browser
Apr 12, 2022
WikiArena_Windows.zip
53 MB
Apr 12, 2022
WikiArena_Linux.zip
67 MB
Apr 12, 2022
WikiArena_macOS.zip
63 MB
Apr 12, 2022